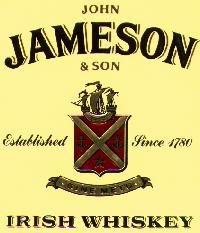 The New England Revolution are in town tomorrow and long-time Rapids fans know what that means, Jamesons Night! (Go
here
for the history of this fan tradition) Both teams are coming off of mid-week wins, so they have momentum but may be tired. Game time tomorrow at the Dick is 7pm, so the kegs will be tapped at the tailgate at 4pm and the grills fired up at 5pm. Jameson Whiskey will, of course, be served. For those of you missing the celebrations, the game will be on Altitude.
Injury Report:
OUT: FW Conor Casey (L Achilles tear)
QUESTIONABLE: FW Macoumba Kandji (L knee ACL tear)
PROBABLE: FW Omar Cummings (R ankle sprain); DF Danny Earls (L quadriceps contusion); MF Brian Mullan (lower back spasms); GK Matt Pickens (R groin strain); DF Anthony Wallace (R quad strain)
Disciplinary Report:
SUSPENDED AFTER 2 MORE CAUTIONS: MF Ross LaBauex; MF Jeff Larentowicz; DF Tyrone Marshall; MF Pablo Mastroeni; DF Drew Moor; MF Wells Thompson; DF Anthony Wallace
No change to the injury report since Tuesday, so I'm not expecting many lineup changes. New England is only missing one player due to injury, so they should be pretty close to full strength. My guess at what we'll see:
Pickens
Kimura - Wynne - Marshall - Moor
Mullan - Pablo- Larentowicz - Smith/Thompson
Nyassi - Cummings
If it ain't broke, don't fix it. 3rd game in a week you would expect some of the starters to get a rest but according to Gary Smith earlier today nobody wants to stay on the sideline. Jamie Smith is still a game time decision so I expect Thompson being ready to take his spot again. Otherwise go with what worked on Wednesday.
Key To Look For: Cummings + Nyassi, flash int he pan or a new partnership being built? We've seen a number of strikers come in and have a great game early on, without being able to repeat it. Are we going to see that pattern hold or will Nyassi become the go to guy?
Prediction: 2-0 win, goals by Nyassi and Cummings. The Revs are a bad team playing their second road game in 4 days. Colorado should be able to control this game and get a win. Given their struggles this could be the game where the defense gets a much needed shutout, and the speed of Nyassi and Cumming should be able to burn the New England defense.