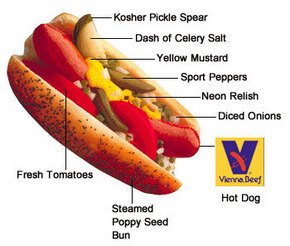 Chicago Dog Week at the Class VI/Pid Army tailgate
After a long two weeks in the Northeast the Rapids are finally back at home on Sunday. The Fire are in town and Colorado is trying to right the ship after a bad outing in NY. Game time is 5pm and since its a themed tailgate (see above) the grills start and kegs open at 2pm. If you can't make the game its on Altitude 2 locally and Galavision nationally.
Injury Report:
OUT: MF Pablo Mastroeni (headache symptoms); MF Jamie Smith (R ACL tear); DF Anthony Wallace (L Achilles tear)
DOUBTFUL: FW Conor Casey (L Achilles tear)
A much better list than last week. Freeman is off the injury report, Larentowicz is back from suspension, and Rivero has finally been registered. Unfortunately Pablo is still suffering headaches and looks unlikely to be back until than the Seattle game in mid-April at the earliest. Chicago is missing 2 players, including former Rapid Dan Gargan, so they're almost at full strength. The starting XI seems fairly obvious this week:
Cascio - Cummings - Mullan
Castrillon - Larentowicz - Rivero
Zapata - Wynne - Moor - Kimura
Pickens
Numerous articles out of Commerce City this week have talked about Rivero getting his first shot this week now that he's eligible, and given the play of Thompson and LaBauex last week it seems to be the obvious choice. The other 10 have pretty much secured their starting spots at this point, at least until some of our long-term injured players like Casey and Smith are healthy.
Key To Look For:
Rivero's work in the midfield. The other 10 have started gelling but Rivero is the new variable this week. If he can fit in and fill most of Pablo's role we'll be in good shape this game. If the midfield falls apart like it did last game then it could be a bad sign for the season.
Prediction:
2-1 Rapids win. Goals by Cummings and Castrillon. Getting home is what the Rapids need right now, and they're going to take full advantage. Cummings finally found the back of the net last week and I expect him to build on that. With Rivero giving some more support in the midfield Castrillon will make something happen. The new midfield combo will have its hiccups though, and that will allow the Fire to get a goal of their own.