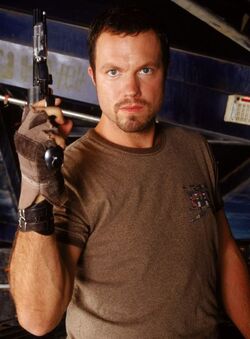 As
Jayne Cobb
smacked the cows in
Safe
so must the Rapids smack the FC Steers from Dallas on Sunday.
They finish their homestand at The Dick facing Dallas on Sunday. The game is at 1:30 MDT. It will be followed by the Colorado U-19's taking on the
Colorado Rush
U-18's.
Here's the injury report:
OUT: DF Mike Petke (R foot); GK Justin Hughes (L groin); MF Nico Colaluca (L groin); QUESTIONABLE: MF John DiRaimondo (L ankle); DF Jose Burciaga Jr. (R foot); MF Pablo Mastroeni (illness); PROBABLE: DF Kosuke Kimura (R foot)
My lineup prediction:
Burpo
Ihemelu - Erpen - Harvey
Mastroeni - LaBrocca
Peterson - C.Gomez - Clark
McManus - Cummings
I think imura's injury is really hampering his ability to play defense and Clavijo will sit him. In today's Post article Clavijo said that Cooke has to play his way onto the team. Given Peterson's lack of play over the last few games I don't know what he's waiting for, but I'm guessing whatever it is it hasn't happened yet and Peterson will start. I expect Cummings and McManus to start up front, with a halftime sup of Casey in for whichever one looks to be having the worse game.
Critical Matchup
: Cummings & McManus vs. the Dallas defense
Last week we saw a complete inability of our strikers to get involved in the game until McManus blasted his Goal of the Week shot. That needs to change this week. Dallas' defense looked pitiful two weeks ago against LA, a team we beat 4-0 to start the season. Cummings and McManus need to work to get space and take advantage of the weak back line.
Keys To Look For
:
First half play. I've been hammering this every week, and we haven't shown up yet. If we continue to play flat in the first half we'll be in holes we can't dig out of, like last week against Chivas.


Burpo's play. The reports out of the USOC game against LA said that Burpo did not look good. We'll be relying on him for at least 4 league games and a USOC match and he's going to have to step up.


How our defense handles Kenny Cooper. He has as many goals as the next 3 Dallas players combined. If we take him out of the game Dallas' offense will be hurting.


Can Pablo and LaBrocca handle Rocha? He's Dallas' midfield general.


How does Clavijo balance the league needs vs. the USOC needs Wednesday night? Will he hold some players back for the USOC game, or go all out on Sunday?


Patience and build-up in our offensive play. We do best when we don't bomb the ball over the top of the midfield.

Prediction: 2-1 win. The change from Bouna to Burpo will cost us a goal, but we'll take advantage of Dallas' defense and get 2 for the win.