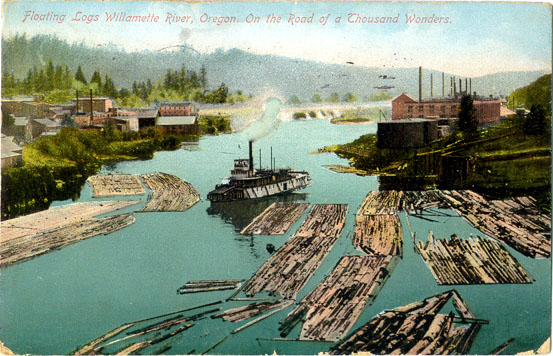 Felled logs floating down river
Last year we opened the season with a 3-1 home win over Portland, our opponents tomorrow night. We later beat them 1-0 with a favorable non-offside call in Portland. Tomorrow we hope to keep that streak going with another win. Kickoff tomorrow is 7pm. A special tailgate time of 4pm for the annual Homebrew Contest, with about 50 Timbers fans joining us as well. For those of you who can't make it the game is on Altitude.
Injury Report:
OUT: MF Pablo Mastroeni (headache symptoms); DF Anthony Wallace (L Achilles tear)
PROBABLE: FW Conor Casey (R hamstring strain);
FW Omar Cummings (L ankle sprain);
DF Kosuke Kimura (L foot contusion); MF Jamie Smith (R ACL tear);
DF Marvell Wynne (R hamstring strain)
Disciplinary Report:
SUSPENDED AFTER NEXT 2 YELLOWS: MF Jaime Castrillon;
MF Jeff Larentowicz; DF Tyrone Marshall
The injury report looks very similar to last game, but everyone's had an extra 10 days to heal. It looks like the team practiced a 4-4-2 this week with the C+C Goal factory back up front! Portland has two players out to injury and two players out to suspension so they're actually worse off than we are. My guess at the starting XI
:
Casey - Cummings
Castrillon - Larentowicz - Rivero - Mullan
Zapata - Moor - Wynne - Freeman
Pickens
Kimura and/or Smith could start as well, or Cascio in place of Cummings, but this feels like what OP is thinking. That's a pretty solid lineup for the Rapids.
Key To Look For:
It still comes back to the defense. Can they figure out how to play as a unit?
Prediction:
2-1 win. Goals by Casey and Cummings. Tomorrow C+C Goal Factory find their magic and lead the team past the Timbers. Portland gets one back late to make it interesting but Colroado gets the 3 points.