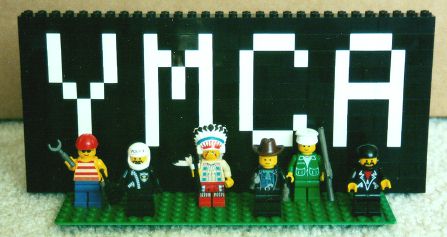 (Yeah, I can't help myself. A Crew game requires a LEGO Village People picture)
It's finally time to get the season started! Tomorrow the Rapids host the Crew to kick off Oscar Pareja's coaching career. Game time tomorrow is 4pm, the first game (along with Vancouver-Montreal kicking simultaneously) of the whole MLS season. As always Class VI and Pid Army will be hosting a tailgate ahead of time in the West VIP lost. Tomorrow we start at 1pm and are including a baked potato bar. For those of you who can't make it the game will be on Altitude.
Injury Report:
OUT: FW Conor Casey (L Achilles tear); MF Jamie Smith (R ACL tear); DF Anthony Wallace (L Achilles tear)
DOUBTFUL: DF Hunter Freeman (R ankle arthroscopy)
Ineligible:
MF Martin Rivero (missing International Transfer Certificate)
The injury report is no real surprise given the news we've seen this preseason. Players are required to have their International Transfer Certificate on file with the federation they're playing for and unfortunately the Argentinian FA has not transferred Rivero's to the U.S. yet so he is ineligible to play this week. The Crew are also missing 5 players, all due to injury. My guess on the first starting XI pf Pareja's career:
Cascio - Cummings - Mullan
Larentowicz - Castrillon - Mastroeni
Zapata - Wynne - Moor - Kimura
Pickens
This has been the pretty regular starting group over the last couple of friendlies. With Rivero ineligible I'd be pretty surprised to see any other lineup.
Key To Look For:
New coach, new formation, new players. At this point I'm just hoping everyone is on the same page and working on doing the same thing.
Prediction:
1-0 Rapids win, goal by Castrillon. Without Casey and with players still settling into the 4-3-3 I'm not expecting many offensive fireworks. There's too much talent out there for the Rapids not to get on the board though. The defense is still pretty much the group that shut out Columbus in the playoffs last year and the only change made them better IMO so I can see another shutout. Pareja gets his career started with 3 points.