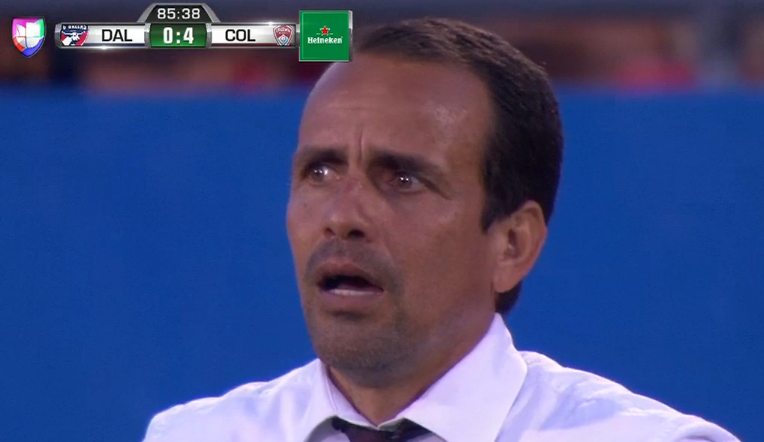 Last time we were in Dallas...
Three weeks ago I wrote about
how important this 5 game run was
. I said to achieve our reasonable goal (at that point) of a top 2 finish and a shot at the Shield we needed to show up for these 5 games because the run-in after that was an easier schedule. Well in the first four of those games we've managed 2 points and seen Dallas pull away from us and LA and FSL start breathing down our necks. Our last chance to get out of this tailspin and salvage any chance at the Shiled (and probably a top 2 finish) comes tomorrow night in Dallas. A win and we're back to within 5 points of Dallas with two games in hand. A loss and we're 10 points back with 7 to play on a 3 game losing streak. No chance to catch them at that point. A draw is pretty much just as bad putting us 7 back with 7 to play and a 3 game winless streak. A loss also puts us within .02 pts/game of LA and FSL, dependent on what they do tomorrow. A win is almost a must if we want our best ever top 2 finish and a playoff bye. Game time tomorrow night is 7pm and the game will be broadcast on Altitude.
Player Availability:
OUT: M Dillon Serna (season ending ACL tear)
QUESTIONABLE: D Sean St. Ledger (knee); M Jermaine Jones (quad)
Dallas is missing just Lloyd due to concussion issues. It sounds like from all reports that Jones is out for this one. I also doubt we'll see St. Ledger.
Starting XI Prediction:
I'm assuming with Miller's play and the fact that Williams was apparently good enough to go 90 in a WCQ that we'll see him start but I could be wrong. I also can't rule out Pablo going back to putting Powers into Azira's spot, though that's the wrong move.
Prediction: 2-1 loss, goal by Gashi. I don't have any faith that this team isn't in a death spiral right now and playing the best team in the league on the road isn't likely to change that opinion for me. If we can win, or even get a non 0-0 draw, I'll start thinking we've turned things around but until them I have to assume a loss.