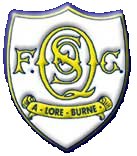 Another in the ongoing series of posts in which I explain my loyalties.
So why Queen of the South? They're a 1st Division Scottish club that play in Dumfries in the SW of Scotland. There's nothing there that immediately explains the attraction.
The attraction
is
the fact that its there though. I happened to ctach both the geneology and soccer bug at the same time in 1998. The Maxwell name is Scottish, and Lord Maxwell was granted the title of Ward of the West March and their family seat was located near Dumfries. Naturally when I started following British soccer I looked for a team in or aound Dumfries to follow, and found Queen of the South.
At that point they were in the Scottish 2nd division, and pretty much impossible to follow. The only details I could get were the weekly website updates and sites like
Live Score
to get results. Outside of goal clips on YouTube I've never seen them play a real game. I did see them play in
A Shot At Glory
a British movie starring Robert Duvall and Michael Keaton as the manager and owner of a small Scottish football side that makes a Cinderella run to the Scottish Cup Final. They face Queen of the South in the semi-final, and the movie was filmed at Queen's home of Palmerston Park and most of the Queens squad in the movie were played by Queen of the South's actual players.
Despite all of this, a picture of me has actually appeared in the Queen of the South matchday program. In 2002, when Queens won both the Second Division and the Scottish Challenge Cup, the club sold jersies commemerating the "double" and I picked one up. During the summer the website sponsors "QoS On Tour" and encourages the fans to send in pictures of themselves on holiday with their QoS gear. I took a picture of myself at Safeco Field, home of the Seattle Mariners and sent it in. It was chosen for publication in the matchday program, and the club was nice enough to send me a copy, along with a few others from that season. The caption that went along with it stated that the editors didn't know how they had a fan in the Seattle area, but given my surname maybe I had connections to the Dumfries area. ;)
Now Queen of the South is a solid 1st Division squad, and have advanced to the semi-final of this year's Scottish Cup. With some luck Sentana will pick up the Scottish games, I'll actually find a bar that will be showing it, and finally get to see my team play a real game.