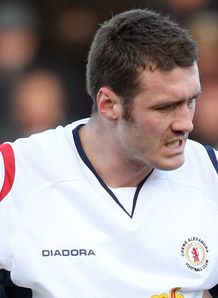 Sky Sports is
reporting
that the Rapids have offered Frenchman Julien Baudet a 2-year contract. He's a central defender currently playing with Crewe Alexandra in England's League One, which is the third division in England.
I don't see this as a strong move for the Rapids, if true. A player that can't get out of League One when most MLS players that go to England end up in either the Premiership or the Championship is an indicator that he's average MLS quality at best. Not only that its paying for a player where we have lots of depth. Right now we have 3 dedicated central backs in Ihemelu, Gibbs, and Harden, plus two defensive mids that have spent time on the back line in Pablo and Dalby.
If we're going to make a big signing like this it needs to be further up the field at either central mid or striker.
And for your Rapids history lesson this week, Giles Grimandi was a French center back and midfielder who signed for the Rapids in 2003, only to leave the team before the start of the season. The reported reason was that he faced abuse from Denver citizens (this was the height of the anti-French "Freedom Fries" movement in the U.S.) but rumors were that he and head coach Tim Hankinson never saw eye to eye, to the point where Grimandi was left to do his own training instead of working with the team.