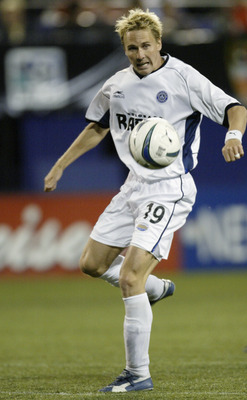 The starting left midfielder for the
Rapids All-Time Team
is
Chris Henderson.
How Acquired: Signed as a Discovery Player in 1996. First pick in the Dispersal Draft in 2002
Years In Colorado:
1996 through 1998 and 2002 through early 2005
How Departed: Left as a free agent and signed by KC. Traded to Columbus in a 3-way trade that brought Mike Petke to Colorado.
(OK, so I cheated a bit. Henderson was primarily a right midfielder, but he showed in his time in Colorado that he could just as easily play on the left.)
Henderson is the only player in team history that I can think of that played regularly for the team in two different times. Chris was one of the better players on the Rapids when he left after the 1998 season, but with the addition of Anders Limpar he was seen as surplus to the team's needs. Henderson moved on to KC for two years and then to Miami for one. After the 2001 season the Miami Fusion were contracted along with the Tampa Bay Mutiny. Due to trades the Rapids held the top draft spot in the Dispersal Draft from those two teams and they used it to bring Henderson back to Colorado (The Rapids also acquired Kyle Beckerman and Pablo Mastroeni that day, possibly the best single-day haul in team history).
When you combine his two stints with the team he set records for games, starts, minutes, and assists. His games and minutes total were also league records when he retired. Henderson still holds the team assists record with 53 and is second in the other 3 stats behind Mastroeni. His combined total of 84 goals and assists is by far the team record, with Casey and Bravo tied for second at 61.
In his second stint Henderson combined with the John Spencer, Chris Carrieri, and Mark Chung to create what offense the Rapids had in that time. This is when his flexibility to play on either side of the field really came into play as Chung and Henderson would regularly swap sides during the game to confuse the defense. Henderson would get free to snap crosses into the box or make diagonal runs to free up the forwards.
Of course possibly the biggest goal in Rapids history prior to last year was scored by Chris Henderson. In the 1997 Western Conference final Colorado was facing Dallas (the first of five times in the playoffs). Back then the playoffs were a best of 3 series and Colorado had upset Dallas in Dallas in game 1. Game 2 in Colorado was tied 1-1 with 3 minutes to play, with Game 3 back in Dallas looming on the horizon. Then Henderson side-volleyed a cross into the back of the net to give the Rapids the game-winning goal and their first ever berth in MLS Cup. That was as close as Colorado got to a championship until Kandji blew out his ACL getting the Rapids the MLS Cup.