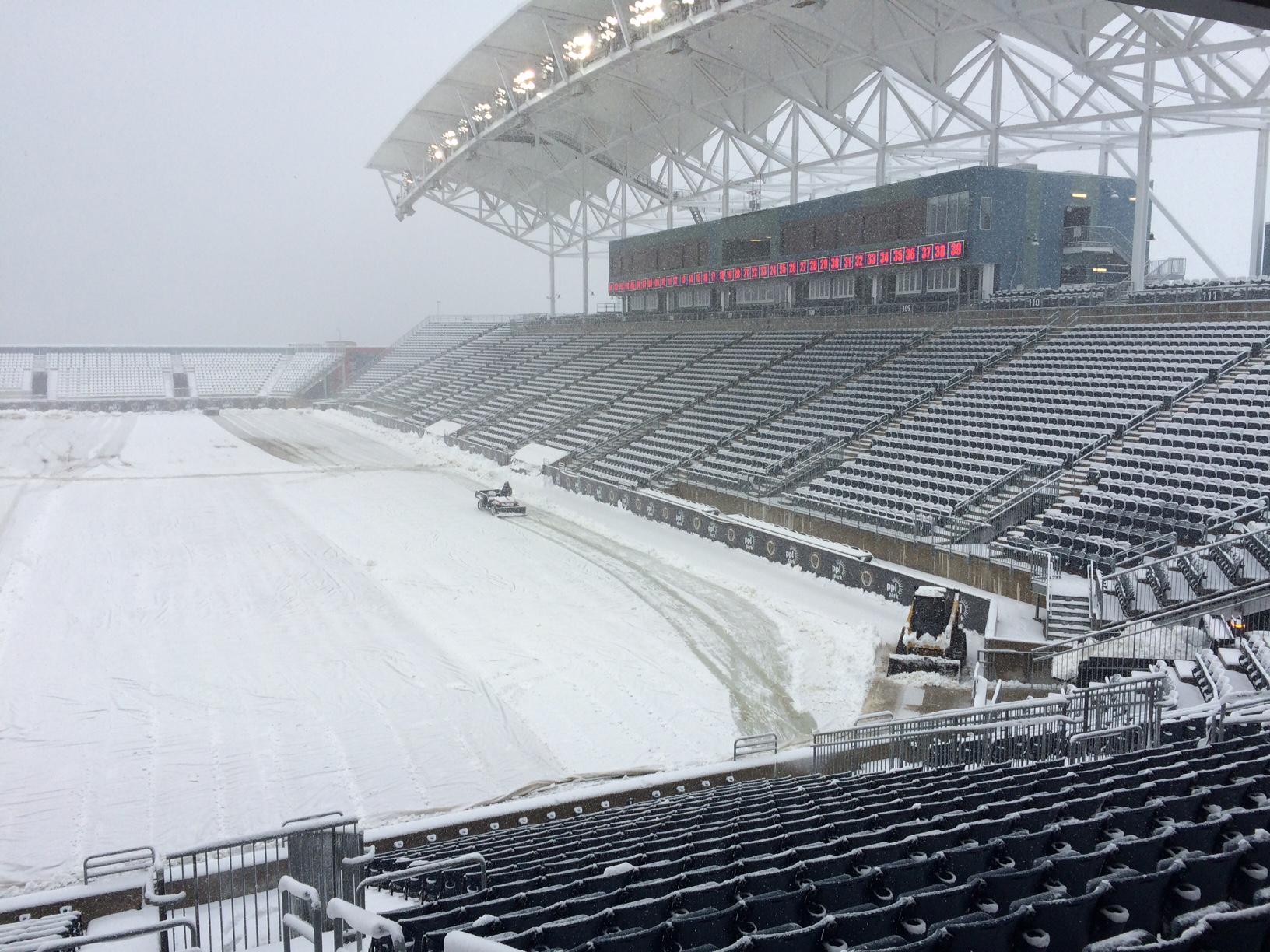 PPL Park yesterday
The 2015 season is here! Well not here, its not here for another two weeks but its in Philly tomorrow. The season starts at 2pm MST and the weather won't be as bad as above, though still cold. 'Celo and Fleming will have the call on Altitude. C38 will be having their season kickoff party at the Celtic starting at noon.
Ugly facts for this game:
The last time the Rapids won a game was July 25th.

The last time the Rapids won a game over an existing MLS team was June 28th.

The last time the Rapids won a road game was April 12th.

The last time the Rapids won a road game on this side of the 49th parallel was September 7th

2013

. No that's not a typo.
Injury Report:
OUT: D Drew Moor (ACL); M Charles Eloundou (fitness)
UNAVAILABLE: GK Zac MacMath (loanees can't play against owning team)
Philly is missing goalkeeper Andre Blake but are otherwise healthy. Reports are that Shane O'Neill is still fighting a stomach bug and may not be fit enough to start. Also Clint Irwin spent a lot of time this week working on the CBA as one of the team's player reps and may not have had enough practice time to start. Brown and Powers are also struggling with fitness. My guess on our first starting XI of the 2015 season:
I'm assuming that with a bye week next week we'll give all the questionable players the full two weeks to get to full fitness. That leaves us with somewhat of a mess of a lineup and only 4 players from the 2014 team starting.
Strategic Consideration: You see that lineup? That's a lot of new blood to integrate. Are these guys ready to play together as a team?
Prediction: 1-1 draw, goal by Torres. The patchwork back line with Berner between the sticks won't be able to get a shutout but our dangerous midfield will be able to set up our DPs to combine for the first goal of the season. The winless streak stretches to 15 but a point on the road is nothing to sneeze at.