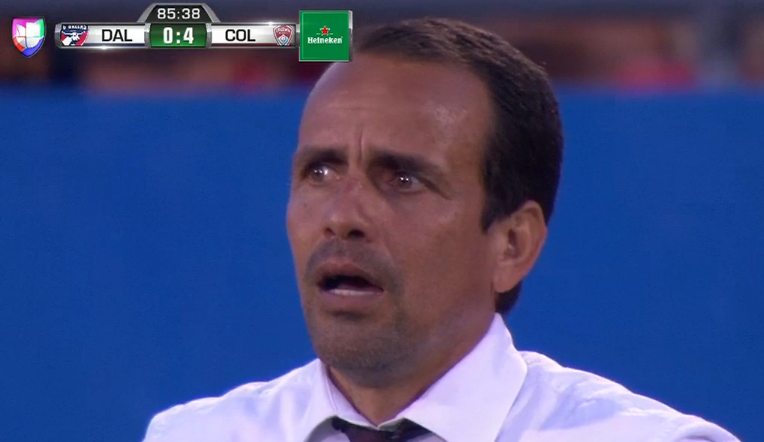 Pareja two weeks ago
Same bat time (well almost) same bat channel. Tomorrow night the Rapids and the team-formerly-known-as-the-Burn face off on the second Friday night in two weeks on UniMas. Colorado scored 4 of their 5 goals this season on that night two weeks ago and hopes to continue to jump start the offense. Game time is a late start 8pm so the tailgate starts at 5. UniMas is channel 648 on Comcast's systems here in Denver.
Injury Report:
QUESTIONABLE: D Marc Burch (rib injury); M Sam Cronin (concussion); F Dominique Badji (hamstring injury)
Disciplinary Report:
SUSPENDED: M Marcelo Sarvas (through 4/29, DisCo action)
International Absences:
U.S. U-23: D Shane O'Neill; M Dillon Serna
Well, that's not good. That's a lot of talent missing from a lineup that can't afford it. Dallas has 3 players missing but that's it. My guess at the XI:
Other than LaBrocca for the suspended Sarvas that's the same lineup we saw last week. Given our options I don't see us doing much different.
Strategic Consideration: Finish. Creating chances isn't good enough if we can't put the ball in the net.
Prediction: 0-0 draw. Losing Sarvas and Serna from the attack leaves us with very little to pin our hopes on for scoring. Our defense is still as strong as it was two weeks ago but I don't see us scoring. Expect our fourth scoreless game of the season.