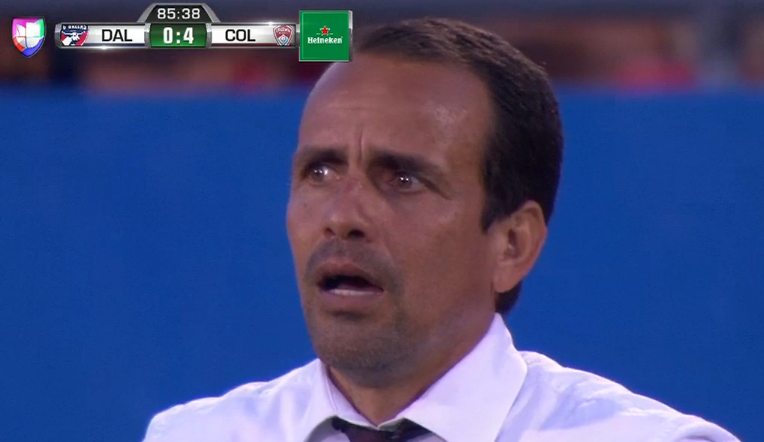 Well that was fun. The offense finally started to start the season and did so in a big way with four goals while the defense put up another shutout. Torres finally got on the board with a goal and an assist while Ramirez chipped in with his first MLS assist. For the icing on the cake Serna bombed in a goal of the week for our first win over Pareja.
General impressions:
Final ugly stat update, then we can put that whole horrible run behind us:

602 minutes without a goal (team record, second worst in league history)
18 games without a win (team record, ties league record)
362 minutes without a goal to start the season (team record, second worst in league history)
2 points in last 14 games of 2014 (team record, league record for worst single-season run of form)
6-0 loss to LA (team record worst loss, tied for 3rd in league history)

DRRRREEEEWWWWW!!!!!! Great to see the captain back. In a game we didn't think he'd even be available on the bench he starts and goes 90, and plays well.
The yellow kits look better in use than they did in the publicity photos. Still not my favorite but not bad. Zlatan would look at home in them. ;)
Badji, Powers, Torres, Serna, Sarvas, and Ramirez all got goals or assists in this one. Really the only one left out was Sanchez, who only got in for second half stoppage time. Nice distribution.
A nice problem to have all of a sudden is too many options at CB. I think Moor and O'Neill should be the starters but Sjoberg is pushing for time once healthy. Burling is a little too physical for my tastes but could also be a starter.
We've only started the same back 4 twice (Houston & NE) and we still have 4 shutouts in 5 games. Some of that is the good play of Irwin but some of it is just real consistent defense regardless of who's back there.
The team could have easily taken their foot off the gas after 2 or 3 goals. Good to see them still pushing all the way to the end.
Lopez looks like a natural on the sideline. I wouldn't be shocked to see him become a head coach in a couple of years. Did he remind anyone of the Argentine Mark Harmon though?
The Rapids now have the second best goal differential in the league.
Man of the Match:
Dillon Powers. Great pass to set up the first goal, great shot to score the second. Great work all night.