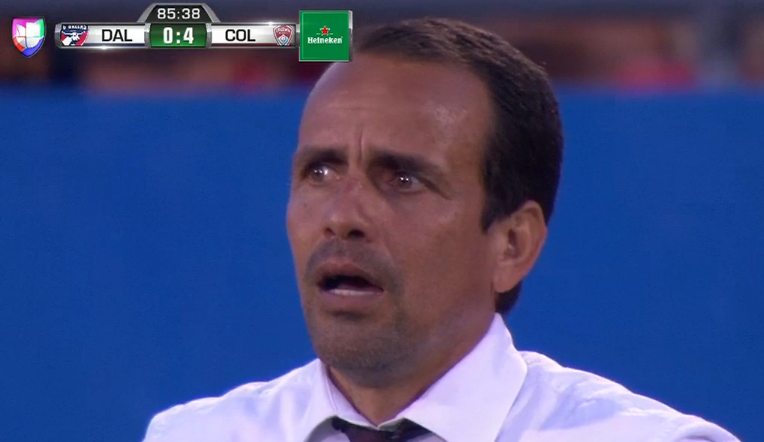 Hard To Choose Between This And MLS Cup
Barring a playoff matchup (yeah, right) this is our last look at Dallas this year. We've already gotten 4 points off of them in 2 games so this is a good chance to grab some more points. Its really do or die time for the Rapids now and they can't afford not to win home games, especially with this being the second of six games in an 18 day span. Kickoff tomorrow is at 7pm so the tailgate starts at 4, and the game will be on UniMas.
Injury Report:
OUT: D Axel Sjoberg (Knee); MF Juan Ramirez (hamstring)
QUESTIONABLE: MF Vicente Sanchez (hip flexor)
Discipline:
ONE YELLOW FROM SUSPENSION: M Sam Cronin (2 games left for good behavior reduction)
Missing Sjoberg and Ramirez is not good. Dallas only has one player questionable so we'll get their full strength lineup. My starting XI guess based on who we used on Tuesday:
Cronin is the only player in this XI that started on Tuesday and he was the first player subbed off. Moor, Sarvas, and Solignac all came on as second half subs but didn't have to strain themselves much. With Pittinari and LaBrocca going the full 90 on Tuesday I doubt they start and everyone else seems obvious.
Strategic Consideration: Figure out how to get Doyle and/or Solignac on the scoreboard. They need to start producing ASAP.
Prediction: 1-1 draw, goal by Doyle. A win is possible but I'm not ready to predict it. Our defense is good enough to keep us in the game and Doyle finally opens his account to get us a draw.