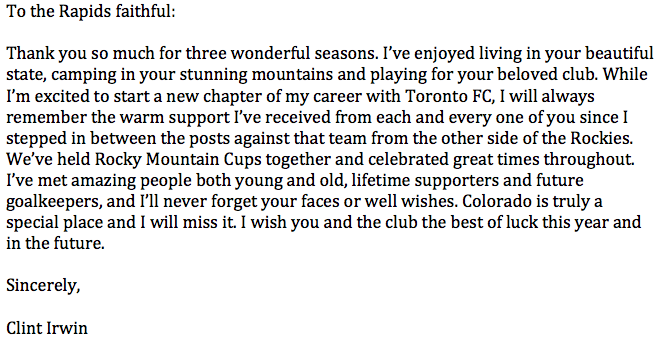 That really says it all. Today the Rapids traded away one of the great players of the last few years. He was the
Player of the Year
last year in my opinion and the last place we needed to spend time, effort, or money improving. In exchange we got Targeted Allocation Money, Toronto's highest 3rd round pick tomorrow, and a conditional 1st round pick next year. Unless that's a big allocation number (and I heard a rumor its not) we undersold badly. Not surprising given that with MacMath and the rumor of Howard the league knew we'd be looking to move a keeper.
I don't think this move says anything one way or the other about Howard. I've heard rumors that Irwin was going to be traded from the day MacMath was traded for. I think Howard or no this was always the plan.
Really though, that's just more work on an area that was the least necessary spot for improvement. We had the 5th best defense last year led by Irwin and Moor while having the worst offense. Since then we've lost both guys to Toronto and our only notable offseason sighting is a midfielder who's recovering from a stab wound. So of course we should be spending time on the keeper position.
We now have 8 players to sign before camp opens Friday in order to meet Bravo's
stated goal
:
"Our goal is to have our team together for the start of training camp, to have all the pieces together for Pablo to start the season,"
The Rapids have just 2 players left from Pareja's 2013 team, Dillon Powers and Dillon Serna. From Pablo's first year you can add John Berner, Marc Burch, Marlon Hairston, and Jared Watts. That's some significant turnover in a short amount of time. Make no mistake, this is Pablo's roster now.
In other news
Brian Ownby
is apparently going to be in camp on trial to start preseason. Ownby is an outside midfielder who has also played forward. He played 10 time for the U-20s and was drafted by Houston, making 29 appearances in 3 seasons before spending last year with his hometown Richmond Kickers.
Current roster:
GK John Berner
GK Zac MacMath
D March Burch
D Joseph Greenspan (when on leave from the U.S. Navy)
D Marlon Hairston
D Axel Sjoberg
D Sean St. Ledger
M Michael Azira
M Sam Cronin
M Marco Pappa
M Zach Pfeffer
M Dillon Powers
M Dillon Serna
M Juan Ramirez
M Marcelo Sarvas
M Jared Watts
F Dominque Badji
F Caleb Calvert
F Kevin Doyle
F Luis Solignac
Unsigned draftees:
D Dennis Castillo
M Emmanuel Appiah
Trialists:
M Brian Ownby