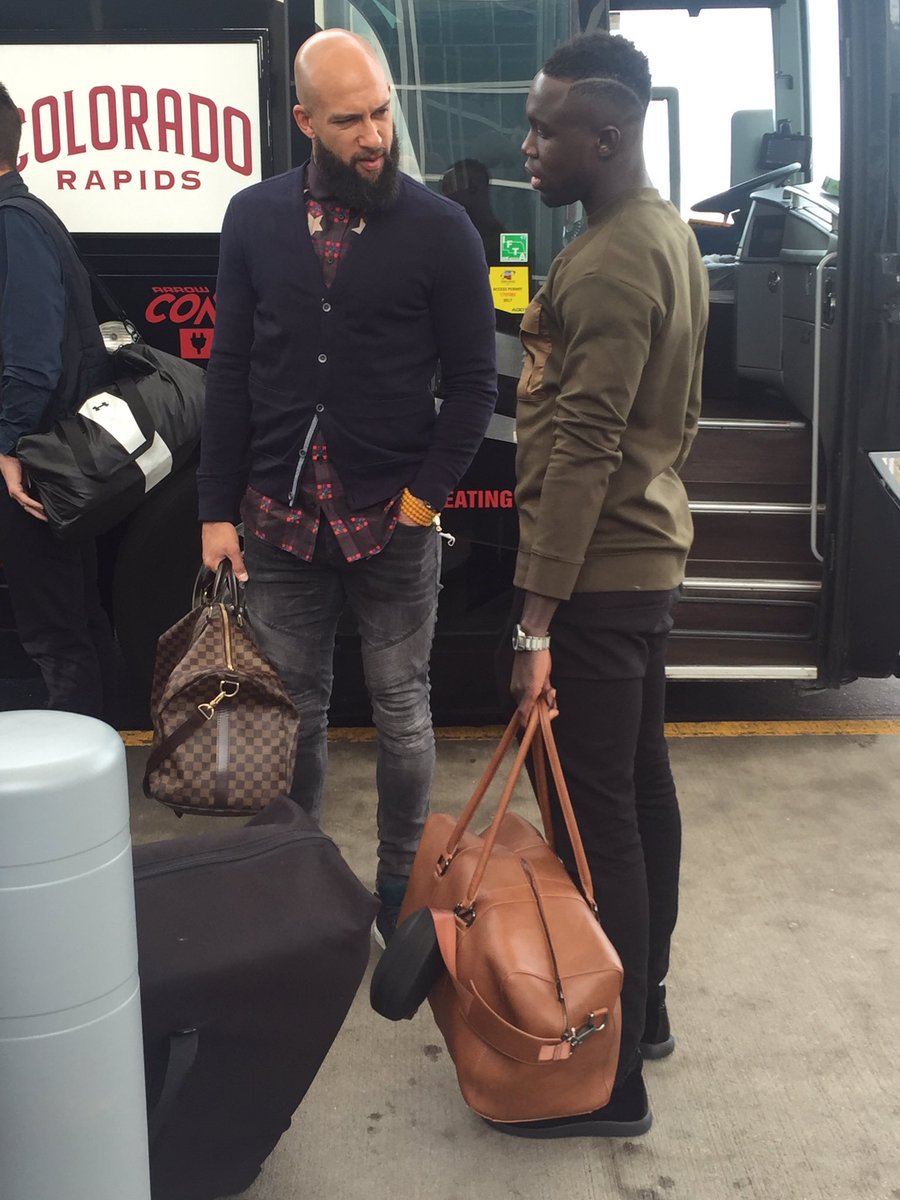 That's Bismark "Nana" Adjei-Boatang getting ready to board the bus to the airport with the team this morning (and Tim Howard, obviously). He got into Denver last night and flew out to Tucson with the rest of the team for the Desert Diamond Cup. I expect him t get a lot of playing time in Arizona.
Daniel Boniface reported some
roster news
over the weekend. Our final draft pick, Peguy Ngatcha has been released and trialist Jun Marques Davidson has returned to Charlotte. No word on the other Charlotte trialist, GK Cody Mizell. Our other 3 draft picks are still with the team. The Academy goalkeepers are likely not travelling with the team.
Gashi is also dealing with an Achilles injury which is a little concerning given how critical he's going to be to our offense this year. The team has created a 2.5 week program to get him healthy and ready to go for the opener.
There was a rumor this weekend that U.S. Nat Aron Johannsson is looking to leave Werder Bremen this summer and come to MLS with the Rapids one of three teams listed as having interest. His name was floating around last season too, so the idea of us having interest would seem to be accurate. It would take some work as Johannsson is subject to allocation order and the Rapids are currently 18th in the order (Minnesota is first) so we'd have to trade up to claim him, then pay him.
Last, but hardly least, in tonight's season preview show on Altitude the team announced that Conor Casey will be inducted into the Gallery of Honor on June 3rd at halftime against the Crew (his final MLS team). A well-deserved honor.
(The graphic also listed a Transamerica Cup on July 1st when we're scheduled to play the Dynamo so ???)
Updated camp roster as we head to Tucson:
Signed Players:
GK John Berner
GK Tim Howard - Designated Player
GK Zac MacMath
D Marc Burch
D Bobby Burling
D Dennis Castillo - International
D Kortne Ford - Homegrown
D Eric Miller
D Axel Sjoberg - International
D Jared Watts
D Mekeil Williams - International
M Bismark Adjei-Boateng - International
M Micheal Azira
M Sam Cronin
M Marlon Hairston
M Ricardo Perez - Homegrown
M Dillon Powers
M Juan Ramirez - Designated Player, International, On Loan
M Dillon Serna - Homegrown
F Dominique Badji - International
F Caleb Calvert - Homegrown
F Kevin Doyle - International
F Shkelzen Gashi - Designated Player, International
F Alan Gordon
Unsigned Draftees:
D Liam Callahan
M Sam Hamilton
F Jaime Siaj
Unsigned Trialists
GK Cody Mizell (?)