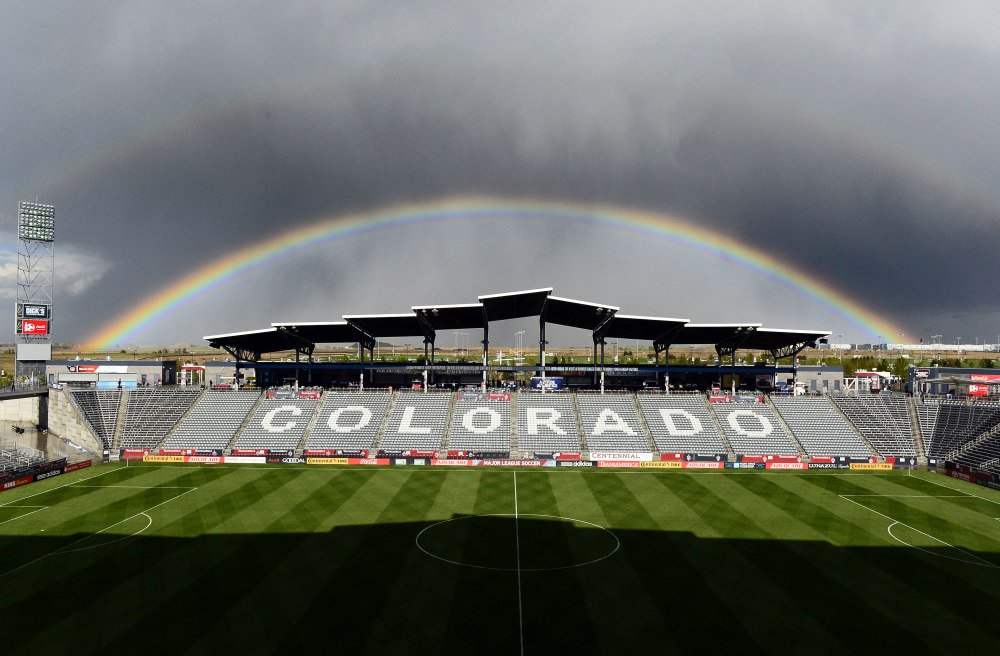 From USAToday
Well it was very much a mid-week/short rest MLS game but the Rapids found another way to win it. This time it was Dillon Serna off the bench that found the winner. If you remember a few games ago in KC it was Serna's bomb after coming off the bench that rebounded off the crossbar to Gashi to finish that resulted in the winner over KC. The Rapids are now 6-0-0 at home, are the only team at or above 2 pts/game this season, are leading the league, and are off to their best start over 11 games in their history.
General Impressions:
Only 4 shots on goal combined from the teams. It was that type of game.
Dom Dwyer, meet Axel Sjoberg. You'll be wearing him all night which is why we won't be seeing you. :D
Seriously, the only thing Dwyer did all night was rip Sjoberg's jersey off and get a yellow card for it.
Cronin and Azira are by far the unsung heroes of this season so far. Its really hard for any team to get any midfield flow through them.
Badji showed why he's not a starter again last night. Gashi was sick but Serna should start in his place next time.
Speaking of subs that was maybe the only negative from last night. Serna should have come in (preferably for Badji) 10-15 minutes earlier.
Jones was dying the last 5-10 minutes he was out there. It shouldn't take him sitting down and calling for the trainer for Pablo to see he needs to be subbed out.
I was in a different seat for this game due to my company having an outing at the stadium for the match. usually I'm in 108 but last night I was under the canopy at the top of 122. Its good to get a new perspective from time to time.
That's right above the corner where the subs warm up. Just before the goal w as scored Pablo was getting ready to put Watts in but he was sent back to the other subs after we scored. Until Jones went down nobody was preparing to come in. Then when it was obvious Jones was coming off Powers ripped off his warm up gear to come in.
The big decision of the match, the two yellows on Oara. The first one was a no-brainer, Opara even high-fived the ref after getting it because he knew he deserved it.
The second was much more questionable. I think it was a foul but unless there was contact that could only be seen by the AR up close I think it was a soft yellow.
That said, I don't really think it changed the game. The Rapids scored on the ensuing free kick (which they would have had with or without the card) and it wasn't from a man left open due to the missing KC player. Serna out maneuvered his mark and hit a seeing-eye goal past about 7 players. I don't see how having another player likely not involved in the play would have prevented it.
It was certainly harder for KC to come back from the goal down a man but given that in the first 75 minutes playing 11 on 11 they managed only one shot on goal I doubt they had a goal in them even without the red card.
The Rapids had 20 points in 11 games in 2010. They have 23 this year. I'd be very happy if this year ended like 2010 did.
Man of the Match: Dillon Serna. Kind of a cop out going with the goal scorer but it was a fairly average game all around and the goal was the highlight, especially coming just 2 minutes after he subbed in.