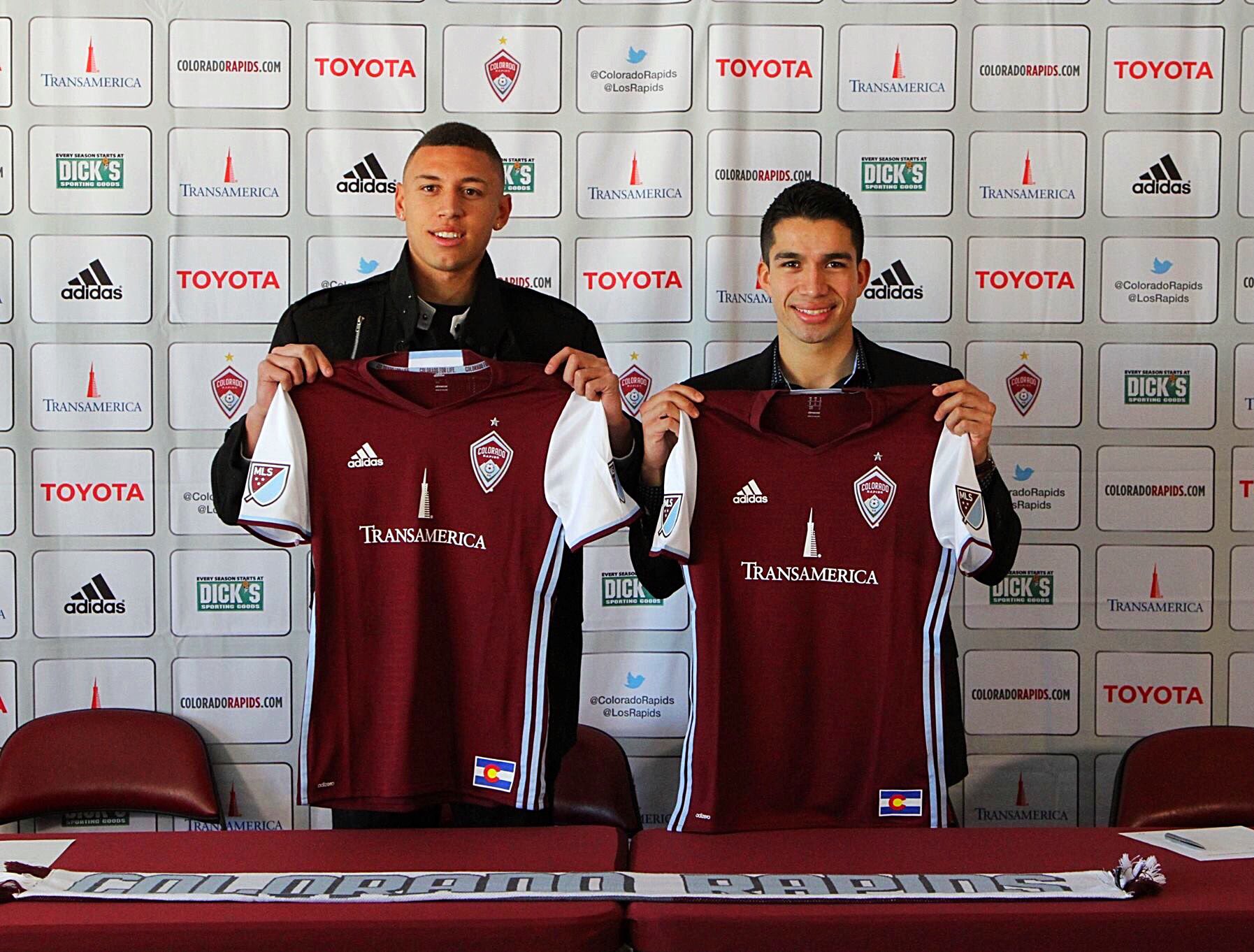 Interesting times in Commerce City yesterday as the Rapids add two homegrown players but lose a Technical Director. We'll do this in chronological order. ;)
Yesterday morning there was a press event at the Dick to
announce the signings
of the 4th and 5th homegrown players in team history, Ricardo Perez and Kortne Ford. They join Davy Armstrong (now with the Switchbacks), Shane O'Neill (NAC Breda), and Dillon Serna as products of the Rapids youth academy that have made it to the first team. For the last few years they've both been playing in college. Perez just finished his senior season at Creighton and Ford had one more year of eligibility at Denver U.
Perez is a 21 year old midfielder who played the third-most games in Creighton history. He was named Big East Midfielder of the year in 2016 and to the 2015 Big East All-Tournament team. He prefers to play centrally but is willing to play anywhere the coaches put him.
Ford is a 20 year old defender who led the DU backline to their first ever College Cup appearance and a final 4 in 2016 (beating my Washington Huskies on the way). He has twice been named to the All-Summit League first team. Like Perez he prefers to play centrally but is willing to go wherever the coaches put him.
One thing about the announcement that people noticed but thought nothing of is that Pablo Mastroeni and Brian Crookham were present, but Paul Bravo was not. Later in the day we found out why as the Rapids
announced that Bravo is leaving his position as Technical Director
. No reason was given as to why and no future plans for Bravo were announced.
This seems like odd timing to make a leadership switch, coming off our most successful regular season and 5 days before the Superdraft. However, as Jonathan Boraz pointed out to me last night, Bravo was
promoted to VP before the 2014 season
and got a 3-year contract extension. That would put him out of contract after the 2016 season (probably technically on 12/31/2016). The timing is still a bit odd as you would expect his departure to be announced shortly after the season, not just as preseason was about to start, but maybe they had been negotiating a new contract and over the holidays they realized they weren't going to be able to make a deal.
Regardless, this leaves a bit of a gap in the Rapids structure going into the critical player management time. We've had no free agent signings yet and we've got the draft coming up next week. I assume that in the short-term Padraig Smith will be taking over the roster construction duties (something he's already heavily involved in) with the help of Pablo and Tim Hinchey. It will be interesting to see if this changes the type of players we sign. Already Daniel Boniface is reporting the
Rapids are not looking to fill their open DP
slot in this window.
Next up, the Superdraft on Wednesday. Here's the first look at my preseason roster tracker with 22 of 28 slots filled (including on-loan Ramirez):
GK John Berner
GK Tim Howard - Designated Player
GK Zac MacMath
D Marc Burch
D Bobby Burling
D Dennis Castillo - International
D Kortne Ford - Homegrown
D Eric Miller
D Axel Sjoberg - International
D Jared Watts
D Mekeil Williams - International
M Micheal Azira - International
M Sam Cronin
M Marlon Hairston
M Ricardo Perez - Homegrown
M Dillon Powers
M Juan Ramirez - Designated Player, International, On Loan
M Dillon Serna - Homegrown
F Dominique Badji - International
F Caleb Calvert - Homegrown
F Kevin Doyle - International
F Shkelzen Gashi - Designated Player, International